We need some talk on this wikia! Jack.exe 00:47, October 28, 2010 (UTC)
How many people visit this wiki?
Edit
Just curious.
I wouldn't mind convo about Sons or MCs or Motorcycles.
Seems like this would be a great place for this. I visit this wiki pretty often.
Someone start a topic. Season 4 predictions maybe?
Seaon 6 is too epic dudes!!
== What is the name of the badass instrumental
==

Does anyone know the name of that badass instrumental that plays during the previously on sons of anarchy segments?
I've literally spent hours on the internet tryng to find this and came up with nothing but it's worth the trouble, because i'ts one of those songs that would just melt my soul if i could !$#%ing find it!   Any intel on finding this song would be greatly apreciated.
It's This Side of Darkness by forest rangers 
I would apreciate if you could help me find This Life instrumental song  (ending credits theme) 
I LOVE the new look 
Edit
Great job community!  . . .very streamlined & accessible.   Teriadkins94 (talk) 11:26, January 25, 2015 (UTC)Teriadkins94
Let's love Opie AND BUY this T-Shirt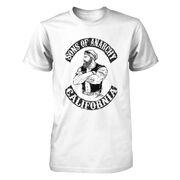 [http:// https://represent.com/sons-of-anarchy-opie  https://represent.com/sons-of-anarchy-opie]
During the seven seasons, Sons of Anarchy writers provided innumerable memorable quotes from nearly every character. I'd like to see a page of SAMCROpedia dedicated to such quotes linked to character profiles and to episodes. 24.243.240.106 08:13, October 10, 2016 (UTC)teriadkins94