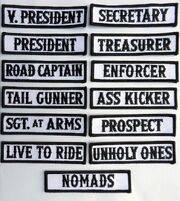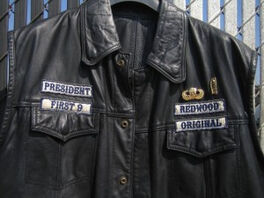 Patches are stitched on the vests of the motorcycle club members. Patches can represent club association, club position and other club related details. On the FX original series Sons of Anarchy, many Motorcycle Club members wear patches in one form or another.
Bikers have a lot of differing patches on their kuttes which serve to identify clubs, charters and ranks or statuses within their respective group.
Back
The following three patches are known as "Full Colours":
Top Rocker: Located at the top of the back. A curved patch that contains the name of the club. Prospects have no top rocker.
Colours: The club logo. This is where we find the "reaper" with the "rifle-scythe". Prospects have no Colours.
Bottom Rocker: Located at the bottom of the back. A curved patch showing a charter's location; state, region or city. If a member is a prospect, the bottom rocker will say "Prospect".
Front
Charter Name: Redwood Originals, Belfast, Arizona, Tuscon, etc...
President: A charter's leader. A senior member who plans the strategic objectives and general direction of the club.
V. President: A charter's second-in-command. A senior member who oversees the day-to-day running of the club and is there to either support or check high-risk decisions proposed by the President.
Sgt. at Arms: A charter's main enforcer. A senior member responsible for discipline in the ranks.
Secretary: A charter's financial head. A senior member responsible for keeping the books, making payments, colleting monthly subs, etc...
First 9: Exclusive to the founding nine members.
Men of Mayhem: Given to a member who has undertaken several particularly difficult or high-risk tasks for the club.
Side Rocker (Optional): Club nickname. "SAMCRO" (Sons of Anarchy Motorcycle Club Redwood Originals), "SAMCA" (Sons of Anarchy Motorcycle Club Arizona), "SAMBEL (Sons of Anarchy Motorcycle club BELfast), etc...
Prospect: A prospective full member of the club. Prospects do not have the same rights and priviledges as full members and must work for at least a year undertaking any task set by a full member, however menial. Once their year is up, full members vote on whether the prospect should be dismissed from club membership or "patched in" as a full member, and be awarded their full colours.
"Muted Colours": SAMCRO members were also seen wearing a simple black jacket with just the reaper on the back. These jackets made an appearance during the club's trip to Belfast and after their stint in Oakland prison, when they were banned from displaying full club colours in public.
Los Asesinos de Dios (God's Assassins) - Seen on Marcus Alvarez's kutte.
Community content is available under
CC-BY-SA
unless otherwise noted.